Concrete frames to inudstrial Buildings
We build all types of industrial buildings for example industrial halls, warehouses and logistic centers. We take responsibility for the entire process, from project planning, design and production to assembly. Our solutions are custom made and we offer an efficient and flexible building process. We combine a rational and economic construction with your vision of what a sustainable building ought to deliver.
We love our concrete, it is fireproof and moisture proof. It provides a safe and secure frame with a long lifetime demanding next to no maintenance at all. With a concrete frame from K-Prefab you get a fast, secure and cost efficient solution.
Energy efficient and a stable frame
Our frames consists of standardised components that provide a fast construction. All the different parts are assembled in a short period of time to a complete masonry building. You get a stable frame structure with minimal maintenance and an energy efficient concrete frame with low U-values, which meet high environmental standards. This creates many possibilities.
Flexible plan solution
The vast interior of the finished building creates an enormous amount of possibilities. Build new inner walls or move existing ones. Make the most of the building with several tenants. Customize offices or warehouses completely according to your plan. We also offer great freedom of choice in façade expressions. We deliver a solution with well insulated exterior walls, solid inner walls, stairways, balconies, lift shafts and solid floor structures with embedded pipes for electricity, ventilation and plumbing. We can also install your windows for a completed building.
Short building time
Our prefabricated frame concept creates possibilities for a fast assembly. This improves the economy through, among other things, earlier occupancy. This in return creates a better overall economy for the finished industrial building.
More information
We are happy to help you with more information. You'll find our contact information here.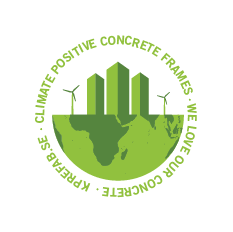 We offer Climate positive concrete frames. Build climate smart with us!
WE CAN HELP YOU!
Click on each region to get in contact with our sales staff.