Concrete frames for housing
Our wish is to build safe and comfortable homes together with you. Homes that are purposely built solid for families to live in for many years to come. We believe in creating sustainable housing with a strong identity through good design, thoughtful form and function that simultaneously is economically beneficial to build.
From idea to a complete frame
We offer fast, secure and cost efficient solutions. As a full service frame contractor, we are responsible for the entire construction of the frame. All the way from project planning and manufacturing to the assembly. This means that we are there for you from day one, with the purpose to create sustainable homes together with you. We sincerely love our concrete. And with good reasons to; mould don't grow on it, it doesn't burn, maintenance is next to none and it has a very long life span. When you choose a K-Prefab frame concept, you choose a quick, secure and cost effective solution. A home for many generations to come.
A stable frame with a high degree of completion
For over 30 years, we have manufactured, delivered and assembled frames. Our concept consists of well insulated exterior walls, solid inner walls, stairways, balconies, lift shafts and solid floor structures with embedded pipes for electricity, ventilation and plumbing. We deliver with high degree of completion. To secure a rational and well functioning construction we offer, among other things, to install your windows. In our concept you will find a great choice of different facade expressions.
Fast and efficient with low energy consumption
Our system consists of standardised components that provide a fast and moisture proof construction where all the parts are assembled in a short period of time to a complete masonry building. This shortens the actual building time and enables tenants to move in earlier. That benefits the projects overall economy. On top of that you get a low maintenance frame structure that is very stable, energy efficient and with low U-values. All together this creates a project that meets a high environmental standard.
Safe, secure and sustainable
The characteristics of the concrete and the benefits it offers, provides the building with requisite preconditions for a good indoor environment in terms of fire safety, sound insulation and resistance to the effects of moisture. The long lifetime and the minimal need for maintenance contribute to a secure building for many generations to come.
More information
We are happy to help you with more information. You'll find our contact information here.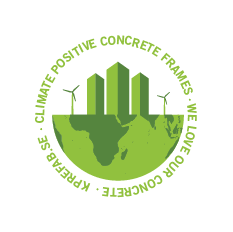 We offer Climate positive Concrete frames. Build climate smart with us!
WE CAN HELP YOU!
Click on each region to get in contact with our sales staff.