Prefabricated frame systems
We can deliver prefabricated concrete frames to all types of concrete buildings. Our wish is to build safe and comfortable buildings together with you.
When we are involved from the beginning we can offer you our competence to obtain a cost-effective and optimized frame solution.
We are present every step of the way offering and ensuring high quality project planning, design, production, delivery and assembly.
Concrete is one of the most important building materials of our time. The material is an important part of our lives and have been part of building the foundation of a sustainable community. Since concrete has a long lifetime of at least 100 years, it is an excellent building material when you think long-term, like we do.
Sustainability and climate are strategic priorities for us. We are now realizing our vision to offer climate positive concrete frames.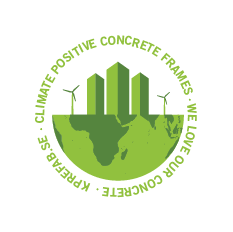 A warm welcome to our green present.
More information
We are happy to help you with more information. Here you will find contact information.
Our frame concepts
WE CAN HELP YOU!
Click on each region to get in contact with our sales staff.